Message Board - Come and Discuss The Latest Videos, Movies & Anything Else!
J.J Abrams' 2009 "reboot" of the Star Trek franchise was greeted with a generally warm response from audiences and critics alike. How distressing, then, that his belated follow-up, STAR TREK INTO DARKNESS (**, 131 mins., 2013, PG-13; Paramount), is an almost unbearably bombastic remix of "The Wrath of Khan," so poorly handled that it negates most of the goodwill established by its predecessor.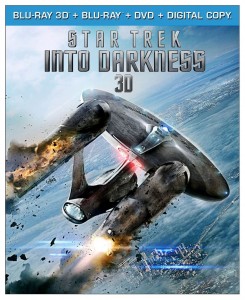 The plot, concocted by Abrams' usual cohorts Roberto Orci, Alex Kurtzman and Damon Lindelof finds Kirk (Chris Pine), Spock (Zachary Quinto) and the rest of the Enterprise crew in the midst of a surveying mission gone haywire. The fallout nearly ends up sending Kirk back to the Academy, but the vile actions of Khan (Benedict Cumberbatch) soon force Starfleet's hand – and places Kirk in charge of a vengeful mission to track him down in the far reaches of the galaxy. Without spoiling too much of the plot (as if it hasn't been already), the ensuing battle between Kirk and Khan ends up sending the characters down a road you've already seen before – but without any of the emotional and dramatic stakes its far superior counterpart generated.
"Star Trek Into Darkness" offers Abrams at his worst behind the camera: constantly swirling the camera around as if every single moment is a fever pitch of dramatic tension, utilizing ADD levels of hyper-editorial rhythms, and scarcely stopping for a minute to let any of it breathe. This is a loud, shrill exercise in modern studio filmmaking almost from start to end – dramatic beats go quickly by the wayside in favor of another fistfight, one more explosion, and copious amounts of special effects. Once in a while Bones (Karl Urban, criminally underutilized here) or Scotty (Simon Pegg) drop in a cute line or two, but there's no humanity beneath the bombast, and the ultimate revelation of Cumberbatch's bad guy won't come as much of a surprise (though it does — much like "Iron Man 3″ — show that the studio's concerns for "global sensitivity" over an "ethnic villain" have completely run amok). What is a surprise is how clumsily it's integrated into a lame "Starfleet conspiracy" angle that's wholly unsatisfying – the movie, which I wasn't crazy about right off the bat, basically unraveled completely for me during this stretch of the film and never recovered.
I felt that Abrams' concept for his "Star Trek" was a smart one in 2009: breaking free from "canon," but working in familiar ingredients in new and inventive ways, that picture was one of the best of the big-studio remakes we've been deluged with over recent years. Sadly, "Into Darkness" proves that film was just a one-trick pony, as Abrams, Orci, Kurtzman and Lindelof seem to have nothing new to add here, and subsequently fall back on Nicholas Meyer's 1982 classic (a picture that feels positively Shakespearean by comparison) for inspiration more and more as the film progresses. Whole lines of dialogue end up being reprieved in a new context late in the film – but they mean next to nothing here dramatically, since their inclusion feels less like they're integral to the story and more a result of the filmmakers having nothing else to say. Meanwhile, other fan-service references – like the future design of the Enterprise, an appearance of the Klingons, Leonard Nimoy's pointless cameo, and a quick appearance by a Tribble – come off as totally arbitrary. What's next – Seth Rogen appearing as Harry Mudd? (Maybe we shouldn't give them any ideas!).
The picture's flaws are further compounded by a totally blah visual scheme – despite a huge budget, where's the imagination? Abrams' futuristic San Francisco looks like "Minority Report" or last year's "Total Recall"; Kirk and Scotty running around a gravity-challenged Enterprise on its last legs plays like a feeble reprise of "Titanic"; and various set-pieces, like Kirk and his "frenemy" flying through space dodging debris, look like leftovers from any number of recent comic book flicks. Very little of this picture looks or feels like a "Star Trek" adventure, and even Michael Giacchino's wall-to-wall underscore (there are precious few scenes that play without music) is completely exhausting.
If the 2009 "Star Trek" felt as fresh and invigorating as the start of Abrams' series "Lost," then "Into Darkness" plays like the disastrous end of it. A hugely unsatisfying and headache-inducing disappointment.
Paramount brings "Star Trek Into Darkness" to 3-D Blu-Ray and Blu-Ray on September 10th. Converted to 3-D in post-production, the movie offers a fair amount of depth-of-field effects, though it's certainly not mandatory if viewing the film for the first time. The 2-D Blu-Ray presentation is excellent also from an a/v standpoint, though the extras are here comprised of feeble Making Of materials: "The Enemy of My Enemy" profiles Khan (now explicitly named on the back cover), "Ship to Ship" dissects the production of the space jump sequence, "The Klingon Home World" profiles the "reimagining" of the Klingon species; and several shorter featurettes round out the package. There's been some disappointment that a commentary and other extras were held off this release in favor of retailer-specific promotions (or, in the case of the commentary, availability on itunes), so fans will need to consult the various retail packages for the version they're interested in.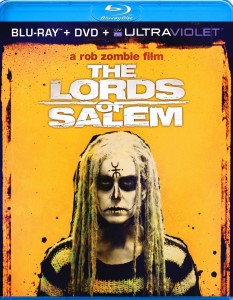 THE LORDS OF SALEM Blu-Ray/DVD (**, 101 mins., 2012, R; Anchor Bay): Once again Rob Zombie shows glimpses of style in his latest, ghoulish horror tale, only to see them ultimately suffocated by the director's lack of taste.
Shot in and around Salem, Mass., "Lords of Salem" follows local DJ Heidi LaRoc (Mrs. Sheri Moon Zombie) after she's sent a mysterious LP that she plays out, over the air – unaware that its secret incantations are laying the groundwork for the birth of the Devil's child…a scheme that dates back to the Salem Witch Trials and Heidi's own bloodline, which she's unaware of.
Zombie's movies are, undoubtedly, not for the large majority of us. His prior "Halloween" films played best when they maneuvered out of the mainstream and "The Lords of Salem" is even more "out there" – a straight, unabashed "trip" into Zombie's head, where naked old witches cavort about, metal headbangers work for the Devil, and its central heroine is put through the ringer before succumbing to her doom. Without any studio interference, "Lords" is even more self-indulgent than Zombie's prior works, which works both ways: the movie's deliberate pacing and mood are striking, while the film is also predictable in its unraveling and filled with unpleasant images. If you're an aficionado of the director, the picture is worth seeing, though I still contend Zombie could make a superb genre film if his penchant for the grotesque was kept in check…but I wouldn't hold my breath on that ever happening.
Featuring an attractive cult cast (Dee Wallace, Meg Foster, Maria Conchita Alonso, Andrew Prine and Bruce Davison among them), "The Lords of Salem" arrives on Blu-Ray this week as a combo pack from Anchor Bay. The 1080p transfer is satisfying, offering a crisply detailed, intentionally-grainy image. The Dolby TrueHD 5.1 sound is effectively mixed, while extras include a commentary with the director, DVD and Ultraviolet streaming copy.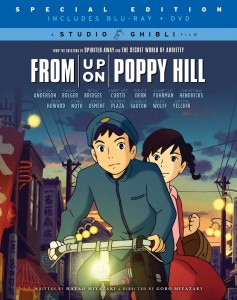 FROM UP ON POPPY HILL Blu-Ray/DVD (***, 91 mins., 2011, PG; Cinedigm/NewVideo): Hayao Miyazaki scripted this adaptation of a Japanese graphic novel that paints a nostalgic, wistful portrait of Umi, a high school student, living in Japan in the early '60s. Umi resides with her grandmother and sister in a boarding house while her mother studies in the U.S., and her blossoming relationship with a fellow student, Shun, is part of an eventful time for both her – as she uncovers the truth about her late father — and Japan itself, one that sees the nation's painful historical past and proud traditions transitioning into new future, as embodied by the 1964 Tokyo Olympics.
Miyazaki's son, Goro, directed "From Up on Poppy Hill," a likeable yet fairly uneventful Studio Ghibli film with appealing characters and a nice message – but not a lot of dramatic fireworks. The gentle tone of the film and nostalgic element will make it far more worthwhile for older viewers than kids, as well as most relevant for Japanese viewers with its strong sense of time and place (vintage Japanese pop tunes appear on the soundtrack).
Cinedigm's Blu-Ray/DVD combo pack boasts over three hours of extras, including both a well-dubbed U.S. English track (with Jamie Lee Curtis, Christina Hendricks, Ron Howard, Emily Osment and Anton Yelchin among the regionalized voices), the original Japanese track, storyboards, a celebrity cast featurette, interview with Goro Miyazaki, music video, original Japanese trailers, a 16-page booklet offering a letter from Goro Miyazaki and an extract from his father's original treatment for the film. The 1080p AVC encoded transfer is lovely, and the 5.1 DTS MA audio nicely mixed.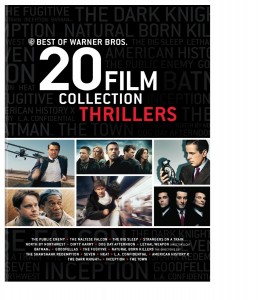 LOVE IS ALL YOU NEED Blu-Ray (116 mins., 2013, R; Sony): Charming, if a bit melodramatic, rom-com from director Susanne Bier stars Trine Dyrholm as a Danish hairdresser, recently recovered from fighting breast cancer, who flies to Italy for her daughter's wedding – after she's found out her husband is cheating with a younger woman. She eventually falls for the groom's husband – a dashing Englishman (Pierce Brosnan) – in a nice, pleasant film offering enjoyable performances and a heady mix of languages. Sony's Blu-Ray, available September 10th, boasts a commentary with Brosnan and Bier; a Q&A with the cast and crew; cast interviews from the Venice Film Festival; a behind-the-scenes segment with Trine Dryholm; a lovely 1080p transfer and DTS MA soundtrack mostly in Danish (with a sprinkling of English and Italian) with English subtitles.
BEST OF WARNER BROS. 20 FILM COLLECTION THRILLERS DVD (Warner): Anthology box-set from Warner Home Video brings together decades of classic Warner thrillers in a conveniently packaged, multi-disc DVD box-set. Included here are "The Public Enemy" (1931); "The Maltese Falcon" (1941); "The Big Sleep" (1946); "Strangers on a Train" (1951); "North by Northwest" (1959); "Dirty Harry" (1971); "Dog Day Afternoon" (1975); "Lethal Weapon" (1987, Director's Cut); "Batman" (1989); "Goodfellas" (1990); "The Fugitive" (1993); "Natural Born Killers" (1994, Director's Cut); "The Shawshank Redemption" (1994); "Seven" (1995); "Heat" (1995); "L.A. Confidential" (1997); "American History X" (1998); "The Dark Knight" (2008); "Inception" (2010); and "The Town" (2010), all in previously released DVD incarnations and with a booklet offering individual synopses of each film. Be sure to check my Aisle Seat archives page for more detailed reviews of many of the titles included in this release.
---
THE OFFICE Season 9 Blu-Ray/Digital UV (aprx. 10 hours, 2012-13; Universal): One of the longest-running prime-time comedies came to a close this past spring with a respectable set of 25 episodes that puts a satisfying cap on the exploits of the Dunder-Miflin crew. The main plot line running through the bulk of "The Office"'s final season involves the previously unseen documentary crew that's been filming the characters, plus Andy Bernard's eventual resignation as manager, Dwight's subsequent promotion (something that should've happened seasons before), and – less satisfying – friction in the domestic bliss of Jim and Pam's marriage. The latter strains too hard to add a dramatic edge to the series, but for the most part, the writing is much stronger and consistent in this ninth season, far more than any other year since Steve Carrell's Michael Scott departed the program. The final episode, in particular, hits all the right notes, though fans will note the producers were going to great lengths in trying to set-up a proposed spin-off for Dwight (involving the Shrute family farm) that were wisely kiboshed.
Universal's Blu-Ray includes a slew of never-before-seen audition tapes; two hours of deleted scenes; the final table read; blooper real; cast farewells; a BD exclusive behind-the-scenes panel discussion; Ultraviolet copy; 1080p transfers and DTS MA soundtracks.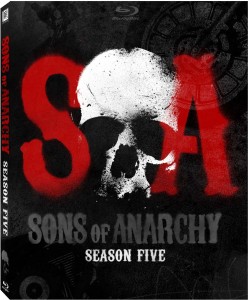 SONS OF ANARCHY Season 5 Blu-Ray (895 mins., 2012; Fox): The fifth season of Kurt Sutter's gritty FX series once again drags its characters into increasingly tense dramatic situations with the estranged Gemma and Clay hanging on for their share of SAMCRO power while Jax travels down a darkening path and Tara loses herself in a web of deceit. Fans of the show will want to revisit these 13 "Sons of Anarchy" episodes in preparation for the sixth season premiere coming up this month on FX, with Fox's Blu-Ray set offering exclusive "Creator's Cut" versions on select episodes; deleted scenes; a gag reel; commentaries on a handful of episodes; three featurettes; 1080p AVC encoded transfers and 5.1 DTS MA soundtracks.
REVOLUTION Season 1 Blu-Ray/DVD/Ultraviolet (857 mins., 2012-13; Warner): The lights are off – permanently – in JJ Abrams and Eric Kripke's sci-fi drama "Revolution." This NBC series premiered to strong ratings a year ago, but eventually fizzled with an increasingly hackneyed story line revolving around Tracy Spiridakos' heroine Charlie Matheson, who searches for her brother Danny in a world torn apart with warring militia members and would-be government leaders jockeying for power in a post-electrical world. All 20 episodes from "Revolution"'s first season (Pilot, Chained Heat, No Quarter, The Plague Dogs, Soul Train, Sex and Drugs, The Children's Crusade, Ties That Bind, Kashmir, Nobody's Fault But Mine, The Stand, Ghosts, The Song Remains the Same, The Night the Lights Went Out in Georgia, Home, The Love Boat, The Longest Day, Clue, Children of Men, and Dark Tower) are on-hand here in excellent AVC encoded 1080p transfers and DTS MA soundtracks. Ample extras are highlighted by a BD-exclusive 2013 Paleyfest featurette with cast and crew members discussing the show; a closer look at the Jon Favreau-directed pilot; a visual effects featurette; five webisodes; gag reel; deleted scenes; and a DVD and Ultraviolet streaming copy as well.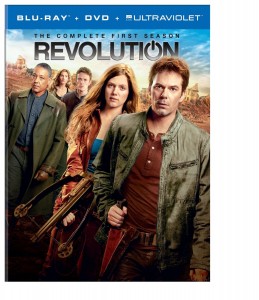 SUPERNATURAL Season 8 Blu-Ray/Ultraviolet (970 mins., 2012-13; Warner): Season eight of the long-running WB/CW series finds Jeremy Carver taking over show duties from creator/producer Eric Kripke, and the injection of new talent behind the scenes lead to something of a resurgence among "Supernatural" fans. Season Eight turns its focus back on the relationship between the Winchester brothers, Sam and Dean, the latter having returned from Purgatory with a vampire escapee (Benny) out to find the monster who turned him. Plenty of creatures, angels, and a "toontown terror trip" mark this energetic assortment of 23 episodes, brought to Blu-Ray in a typically strong presentation from Warner. The 1080p transfers and 5.1 DTS MA soundtracks are better-than-broadcast quality, with extras including three episode commentaries; a look at "Creating the Found Footage Episode"; "For the Defense of Mankind: The Tablets Revealed" featurette; a segment profiling the angel Castiel; unaired scenes; a gag reel; and an Ultraviolet copy.
THE VAMPIRE DIARIES Season 4 Blu-Ray/DVD/Ultraviolet (970 mins., 2012-13; Warner): Elena completes her transition into a vampire in this fourth season of the CW series. Nina Dobrev's performance as Elena anchors a series of plot lines revolving around Damon mentoring her new life as a vamp; Stefan trying to restore her humanity; and various forces, including vampire hunters, who descend upon Mystic Falls. Warner's four-disc Blu-Ray box-set includes six all-new featurettes (Inking the Brotherhood; Creating Silas' Island; Blood, Boys, and Bad Behavior: Becoming a Vampire, The Evolution of Elena Gilbert, The Ultimate Prop Master, and The Impact of a Single Show – Vampire Diaries Fan Video), plus a gag reel, unaired scenes, fan gallery, and a DVD and Ultraviolet streaming copy. The 1080p transfers and DTS MA soundtracks are all excellent.
CHICAGO FIRE Season 1 DVD (17 hrs., 2012-13; Universal): "Law & Order" guru Dick Wolf produced this NBC series that follows a Chicago firefighting squad both in the heat of their jobs and soapy plot lines outside them. Not bad, though, with Universal's DVD including all 24 first-season episodes in 16:9 transfers and 5.1 Dolby Digital soundtracks with extras including a behind the scenes featurette and "Otis' Podcasts."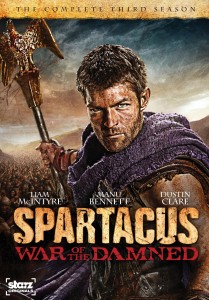 PARKS AND RECREATION Season 5 DVD (aprx. 9 hours, 2012-13; Universal): Season five of NBC's popular comedy starring Amy Poehler as newly elected city councilwoman Leslie Knope says goodbye to Rob Lowe and Rashida Jones, while offering guest star appearances from Jason Schwartzman, Lucy Lawless, Patton Oswalt and – because he had nothing better to do – Vice President Joe Biden. Universal's three-disc DVD package includes a robust array of supplements, including extended episodes, deleted scenes, a gag reel, webisodes, promos, "Patton Oswalt's Sci-Fi Filibuster," 16:9 transfers and 5.1 Dolby Digital soundtracks.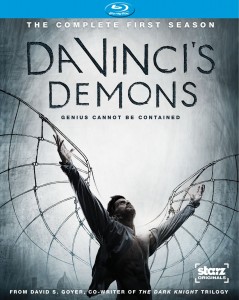 SPARTACUS: WAR OF THE DAMNED DVD (553 mins., 2013; Anchor Bay): Starz's bloody take on "Spartacus," produced by Sam Raimi and friends, comes to a powerful close with "War of the Damned." Liam McIntyre stars as Spartacus, who here finds himself – and a bevy of newly liberated slaves – taking on Rome following a series of victories over Gaius Claudius Glaber. Their ultimate rebellion is combated by Marcus Crassus and a young Julius Caesar in this lengthy conclusion to the "Spartacus" franchise, with Anchor Bay's DVD including the complete "War of the Damned" in 16:9 transfers and 5.1 soundtracks. Extras include a number of behind-the-scenes featurettes.
DA VINCI'S DEMONS Season 1 Blu-Ray (466 mins., 2013; Anchor Bay): Inspired undoubtedly by the success of "The Borgias," "Game of Thrones" and other recent, "sexed up" pseudo-historical series, producer David S. Goyer's revisionist take on Leonardo Da Vinci and his life and times makes for an uneven brew of fanciful fiction, soap opera and the occasional historical fact. Tom Riley stars as Da Vinci – portrayed here as a tortured genius – in the first season, whose 12 episodes grace Anchor Bay's Blu-Ray box-set. Available this week, the package offers top notch 1080p transfers, Dolby TrueHD soundtracks and extras including commentaries; deleted scenes; behind the scenes featurettes; and a second season promo.
---
PRIME SUSPECT Complete Series Blu-Ray (1991-2006; Acorn): Helen Mirren's performance as inspector Jane Tennison brought her critical acclaim from both sides of the Atlantic for the British mini-series "Prime Suspect," which debuted here on PBS's "Mystery!" and is contained in its original, 200-minute form – along with its subsequent series – in this complete Blu-Ray box-set from Acorn.
A well-written and compulsively watchable production from beginning to end (though best viewed in several installments, as the show was televised), "Prime Suspect" was the English answer to the "serial killer" thrillers of the early '90s, and it's no surprise that the dialogue and character relationships are certainly superior to anything we've seen in its American cinema counterparts. The story unfolds at a deliberate yet thoroughly involving pace, layering the various elements of the drama–from the murder itself to Mirren's dogged determination to head the investigation in a male-dominated police hierarchy–on top of each other splendidly. A follow-up effort, "Prime Suspect 2," immediately followed in 1992 – with three more series produced from 1993-96 before concluding with later Tennison mysteries in 2003 and 2006.
Acorn's Blu-Ray offers a "Prime Suspect" behind-the-scenes special (50 minutes), a Series 6 behind-the-scenes featurette, photo gallery, 1080i 16:9 transfers (4:3 on Series 4, Part 1), and 2.0 DTS MA soundtracks. Highly recommended!
FOYLE'S WAR Set 7 Blu-Ray (274 mins., 2013; Acorn): Set 7 of the acclaimed British series finds Christopher Foyle (Michael Kitchen) moving into post-WWII England, where he's recruited by the British secret service to investigate new mysteries related to espionage in an ever-changing international landscape. Colleague Sam Wainwright (Honeysuckle Weeks) rejoins his former partner in three arcs contained in Acorn's two-disc Blu-Ray set: "The Eternity Ring," where Foyle backs an MI5 investigation into a Russian espionage ring that's implicated Sam; "The Cage," with Foyle checking into the deaths of several Russian defectors; and "Sunflower," where Foyle investigates an assassination plot against an ex-Nazi under MI5 protection. Nearly two hours of bonus features are also included here, with 90 minutes of behind-the-scenes featurettes, introductions from writer/creator Anthony Horowitz and a photo gallery. 1080p transfers and 5.1 DTS MA soundtracks round out the release.
---
New From E One
The latest Blu-Ray in the growing library of the Cohen Media Group is BLANCANIEVES (105 mins., 2011), the silent Spanish import by director Pablo Berger that transplants the "Snow White" fairy tale to Seville in the 1920s. Mixing the fantastic with a more "grounded" take on the material, "Blancanieves" is an overlong but entertaining film that fashions Snow White as the daughter of a famous bullfighter and the dwarves as a group of little toreadors in a heartfelt salute to great silent films. Cohen's Blu-Ray includes a Making Of, introduction from Berger, live concert footage, collectible booklet, 1080p transfer and DTS MA soundtrack featuring a fine score by Alfonso De Villallonga…coming later this month from Cohen/E One is TWO MEN IN MANHATTAN (85 mins., 1959), a Jean-Pierre Melville noir with a jazz score by Christian Chevalier and stark black-and-white cinematography to match. E One's Blu-Ray, available on September 17th, includes a conversation between critics Jonathan Rosenbaum and Ignatiy Vishnevetsky; a new essay from Melville historian Ginette Vincendeau; trailers; and a 1080p transfer and 2.0 LPCM uncompressed soundtrack.
Season three of HAVEN (572 mins., 2012) continues FBI agent Audrey Parker's (Emily Rose) investigations into the supernatural occurrences in and around the quaint town of Haven, Maine. Along with Lucas Bryant's Nathan Wuornos and Eric Balfour's Duke Crocker, Audrey's unraveling of the seemingly disconnected occurrences brings about the revelation that her involvement in Haven is no accident. Season 3 episodes include Thanks for the Memories; Reunion; Last Goodbyes; Burned; Sarah; Magic Hour parts 1 and 2; Real Estate; Double Jeopardy; Over my Head; The Farmer; Stay; and 301. Numerous extras include "The Haunting Truth About Haven: A Documentary," "Escape to Haven" webisode series, deleted scenes, six audio commentaries, interviews, New York Comic Con panel, blooper reel, more behind the scenes footage, 1080p transfers and DTS MA soundtracks.
WISH YOU WERE HERE (89 mins., 2011, R) is an Australian thriller starring Joel Edgerton and Teresa Palmer as two of four friends who lose control when one of the group disappears during a Cambodian holiday. Kieran Darcy-Smith's thriller is quite watchable and doesn't overstay its welcome at 89 minutes; E One's DVD includes a Making Of featurette, cast/crew interviews, 16:9 transfer and 5.1 Dolby Digital soundtrack…PUPPY IN MY POCKET: FRIENDSHIP CEREMONY (80 mins.) includes six episodes from the children's cartoon (Friendship Ceremony, The Unexpected Guest, Evershell the Wise, Going Home, A Big Responsibility Parts 1 and 2, and Crest of a Wave) in 16:9 transfers and 2.0 stereo soundtracks.
FRANKENSTEIN'S ARMY Blu-Ray (84 mins., 2013, R; Dark Sky/MPI): Richard Raaphorst's nutty genre-bender posits what would happen if a group of Russian soldiers, towards the end of WWII, came across a crazy scientist constructing a bevy of steam-punk like warriors in an underground lair. Fans of practical make-up effects will find sufficient amusement in the B-grade "Frankenstein's Army," which – with its low budget, abbreviated running time and lack of CGI – seems like a throwback to an older, simpler type of low-rent genre vehicle. Some may like the film for that reason – others have been warned! Dark Sky's Blu-Ray boasts a Making Of, Creature Spots featurette and the trailer, plus a 1080p transfer and 5.1 DTS MA soundtrack.
---
Among PBS' new September releases are a pair of Frontline specials. The provocatively titledRAPE IN THE FIELDS: THE HIDDEN STORY OF RAPE ON THE JOB IN AMERICA (60 mins., 2013)is a searing examination of how many migrant women are treated on the job, and the concessions they are too often forced to make in order to provide for their families. Veteran Frontline correspondent Lowell Bergman and producer/director Andres Cediel's hour-long special was augmented with additional reportage from the Investigative Reporting Program at UC Berkeley and the Center for Investigative Reporting. TWO AMERICAN FAMILIES (90 mins., 2013), meanwhile, returns Bill Moyers and Frontline to Milwaukee to profile a pair of middle class families (one white, one black) and their difficulty working in a declining U.S. economy since 1992. The feature-length documentary arrives on DVD September 17th and offers a 16:9 transfer and stereo soundtrack.
SMARTER BRAINS (60 mins., 2013) is a documentary that looks at the latest research and experiments related to understanding how our brains work and age throughout the course of our lives. Peter Coyote narrates this hour-long 2013 production from writer Lennlee Keep, with PBS' DVD also offering additional bonus material…GREAT PLAINS: AMERICA'S LINGERING WILD (120 mins., 2013) is a gorgeous documentary by Michael Farrell and Michael Forsberg, whose renowned work photographing nature is applied to sterling use in this portrait of Montana's Charles M. Russell National Wildlife Refuge. A vivid 16:9 transfer and stereo soundtrack are included in PBS' DVD release.
---
Xan Cassavettes' KISS OF THE DAMNED (96 mins., 2012, R) is a slow-going vampire tale about a pair of vampiric sisters thrown into chaos when one falls for a human screenwriter. Magnolia's Blu-Ray includes a commentary with Cassavetes, interview with stars Josephine La Baume, Roxane Mesquida and Milo Ventimiglia, trailers, a 1080p transfer and 5.1 DTS MA soundtrack…Thai action is on tap inTHE GANGSTER (115 mins., 2012, R), an import about Bangkokian gangs during the 1950s and 60s. A Making Of, behind the scenes featurette, international trailer, 1080p transfer and 5.1 DTS MA audio (in either Thai or English dubbed) are included in Magnolia's Blu-Ray presentation…NO PLACE ON EARTH (83 mins., 2013, PG-13) is a compelling documentary from director Janet Tobias, profiling cave explorer Chris Nicola's discovery of Jews who hid in a Ukranian cave system during WWII. Extensive special features add additional historical detail to a fascinating survival story offered on Blu-Ray from Magnolia, boasting a fine 1080p transfer and 5.1 DTS MA soundtrack…Andrea Riseborough plays a single mother implicated in a failed IRA plot in the stylish SHADOW DANCER (102 mins., 2013, R), co-starring Clive Owen as the MI5 operative who coaxes Riseborough into spying on her relatives instead of going to prison. Gillian Anderson co-stars with Magnolia's Blu-Ray including a 1080p transfer, 5.1 DTS MA soundtrack, cast/crew interviews, a behind-the-scenes featurette and AXS TV look at the BBC/Magnolia co-production.
---
Family Finds
BARBIE: MARIPOSA & THE FAIRY PRINCESS (80 mins., 2013; Universal) brings back Mariposa and furry pal Zee to Flutterfield, where Mariposa is tagged as an Ambassador charged with promoting peace between fairies and the rival Crystal Fairies of Shimmervale. Misunderstandings and a villainous dark fairy pose hindrances to Mariposa's efforts in this CGI rendered animated feature from Rainmaker Entertainment, which ought to please young girls and Barbie fans everywhere. Universal's Blu-Ray offers a pleasingly colorful 1080p AVC encoded transfer with DTS MA audio and extras including outtakes, two music videos, bonus episodes from "Barbie: Life in the Dreamhouse" and "Polly Pocket," a DVD and Digital copy as well.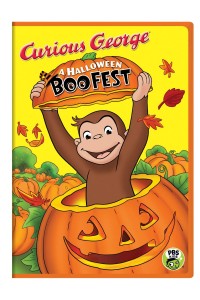 Also new from Universal in the kid-vid department is CURIOUS GEORGE: A HALLOWEEN BOOFEST (57 mins., 2013), which finds George scampering about at the local Boo Festival and trying catch a mysterious scarecrow who steals hats. This all-new original movie includes three songs, colorful animation and fun on the same level as the PBS "Curious George" series. Universal's DVD includes a 16:9 transfer and 5.1 soundtrack.
LALA-OOPSIES: A SEW MAGICAL TALE (44 mins., 2013; Lionsgate) takes the button-eyed title characters out of their lush green countryside to a magical land when their precious strawberry milk stops flowing (I am not making this up). 44 minutes of candy coated calories for the little ones follows with Lionsgate's DVD offering two bonus mini-adventures, two additional featurettes, a 16:9 transfer and Dolby Digital soundtrack…POWER RANGERS MEGAFORCE: ULTIMATE TEAM POWER (92 mins., 2013) includes four episodes from the latest incarnation of the Power Rangers: Mega Mission, He Blasted Me with Science, Going Viral and Stranger Ranger. Lionsgate's DVD includes an Ultraviolet copy, 16:9 transfers and stereo soundtracks.
---
Also New & Upcoming
DAMIAN LEWIS DOUBLE FEATURE DVD (198 mins., BBC): The "Homeland" star is a hot commodity these days, as evidenced by this BBC double feature offering two performances with Lewis, including a modern take on "Much Ado About Nothing" and Stephen Poliakoff's "Friends and Crocodiles." 16:9 transfers and stereo soundtracks are included in the single-disc DVD, which also includes interviews on "Much Ado" and several goodies on "Friends & Crocodiles" (commentary with Poliakoff and actress Jodhi May and interviews with Lewis, May and the director).
DOCTOR WHO – THE ICE WARRIORS DVD (147 mins., 1967; BBC)
DOCTOR WHO – SCREAM OF THE SHALKA DVD (78 mins., 2003; BBC): A pair of new "Doctor Who" Special Editions hit stores later this month from BBC.
"The Ice Warriors" is regarded by fans as one of the more memorable programs starring Patrick Troughton – an arc from November-December, 1967, that finds the Earth battling a new Ice Age and a series of Martians, previously buried in the newly thawed ice, bent on taking over the planet. BBC's DVD includes a wealth of extras, including newly animated episodes 2 and 3 created exclusively for the DVD; various commentary tracks; photo gallery, PDF materials, Making Of content and more. "Scream of the Shalka" is an animated production from 2003 featuring the voice of Richard E. Grant as the Doctor. BBC's DVD boasts commentary, interviews, and other goodies essential for Dr. Who fans.
THE STRANGER WITHIN DVD (90 mins., 2013, R; Sony): Billy Baldwin and Estella Warren play a married couple on a Mediterranean vacation who run into a strange young woman (Sarah Butler) with bloody hands and a story that her boyfriend just died in a hiking accident. This sets the stage for a psychological game between Baldwin's psychiatrist, his actress wife (Warren, looking particularly sultry here) and the troubled Butler in Adam Neutzsky-Wolff's watchable 90-minute programmer. Sony's DVD, out this week, includes a 16:9 transfer and 5.1 Dolby Digital soundtrack.
WAR OF THE BUTTONS DVD (87 mins., 2011, PG-13; Anchor Bay): During WWII, two groups of French kids from neighboring villages battle for buttons and belts – until a young Jewish girl arrives and participates in their skirmish, bringing them together to protect her from the actual horrors of the war taking place outside their pretend environment. Director Christophe Barratier and co-writer Thomas Langmann ("The Artist") have fashioned a compelling, energetic version of the oft-told Louis Pergaud novel that Anchor Bay releases on DVD in the U.S. on September 17th. The disc includes a 16:9 transfer and 5.1 Dolby Digital soundtrack in French with English subtitles; extras include a Making Of, bloopers and deleted scenes.
THE BLACK WATERS OF ECHO'S POND Blu-Ray (93 mins., 2009, R; Anchor Bay): Indie horror film stars the ever-dependable Danielle Harris as one of several friends, vacationing in Maine, who come upon an ancient board game with supernatural properties that had been found in an archeological dig. Playing this game doesn't just bring out the competitive spirit in the group, however – instead, petty jealousies and hatred compound this less-than-happy collection of pals as, eventually, director Gabriel Bologna unleashes the gore in "Black Waters of Echo Pond." Getting to that point, though, may require too much patience on the part of genre devotees, though Harris, Robert Patrick (who appears briefly) an attractive supporting cast make this one a slight cut above. Anchor Bay's Blu-Ray of this 2009-lensed production includes an alternate opening, Dolby TrueHD 5.1 soundtrack and 1080p transfer.
THE LAST TYCOON Blu-Ray (119 mins., 2012, Not Rated; Well Go USA): Chow Yun-fat plays Cheng Daqi, who rises up to become a talented right-hand man to Shanghai tycoon Sammo Hung and, later, a tough gangster in his own right, in this period Hong Kong import. Well Go brings "The Last Tycoon" to Blu-Ray on September 17th featuring a Making Of featurette, DTS MA soundtrack and trailers. The 1080p transfer is solid, and the 5.1 DTS MA audio is included in Mandarin with English subtitles.
SUDDENLY Blu-Ray (90 mins., 2013; Vivendi): Remaking the Frank Sinatra '50s thriller may not have been a bad idea necessarily – what was a terrible decision was entrusting the material to trash director Uwe Boll. His "Suddenly" remake casts Ray Liotta as the small-town sheriff racing against the clock to prevent a Presidential assassination – but it's a feeble, amateurish drama with Liotta taking on the likes of Michael Pare and Dominic Purcell, all of whom have seen better days. Vivendi's Blu-Ray includes a 1080p transfer and DTS MA soundtrack of the Canadian-lensed production.
Also new from Vivendi this month are THE HAUNTING OF HELENA (88 mins., 2012, Not Rated), a barely better-than-average supernatural thriller from The Collective and Bloody Disgusting. Manuela Cacciamani's film follows a divorced mom and her daughter who run afoul of a real Tooth Fairy after moving to southern Italy. Behind the scenes footage, cast/crew interviews, a special effects breakdown, 16:9 transfer and 5.1 Dolby Digital soundtrack are on tap in Vivendi's DVD…The second volume from the animated SECRET MILLIONAIRES CLUB (132 mins., 2013)tries to sell kids on the benefits of learning how capitalism works – a nice switch from the usual kid video stuff I routinely view. Vivendi's DVD includes six episodes from the series plus bonus webisodes, 16:9 transfers and stereo soundtracks.
THE CONTRACTOR DVD (87 mins., 2013, PG-13; Lionsgate): Danny Trejo stars as a contractor who isn't all he appears to be in this thriller from director Sean Robert Olson. Lionsgate's DVD premieres September 10th and includes behind-the-scenes interviews with Trejo and the cast, a commentary from Olson, a 16:9 widescreen transfer and 5.1 Dolby Digital soundtrack.
NEXT TIME: Shout Factory's PSYCHO II, PSYCHO III, MYSTERY SCIENCE THEATER 3000: THE MOVIE and more! Until then, don't forget to drop in on the official Aisle Seat Message Boards and direct any emails to our email address. Cheers everyone!