Message Board - Come and Discuss The Latest Videos, Movies & Anything Else!
John Frankenheimer's supremely disturbing SECONDS (***½, 107 mins., 1966, R) plays like an extended, and hauntingly shot, episode of "The Twilight Zone": unhappy NYC banker Arthur Hamilton (John Randolph) gets an "offer" from (and is essentially coerced into joining) an old friend, long thought dead, who's now associated with "The Company." The irresistible makeover proposed by The Company involves Arthur's rebirth in the form of a new man, and by that I don't just mean a makeover – he gets a whole new face and lease on life in the form of Tony Wilson (Rock Hudson), accepting his new identity while saying goodbye to his long-time wife, their passionless marriage and a now-grown daughter he hardly sees.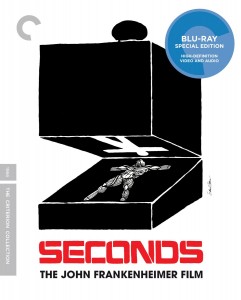 Unfortunately, while you can rework the surface, you can't change the soul, and it's here where Frankenheimer's film probes the mind of the lost Tony Wilson/Arthur Hamilton. His "adjustment" doesn't go according to plan, despite meeting a mysterious new woman (Salome Jens) upon his arrival in Malibu and receiving a new identity as a So Cal artist. As time progresses, Tony becomes less interested in the artifice of his new "life" and begins to wonder what went wrong in his first one, going so far as to meet Arthur's "widow" and inquiring about their relationship. The answers, as they are in the film's shocking ending, aren't exactly what he wants to hear...
Lewis John Carlino scripted this adaptation of David Ely's novel, which is powerfully brought to the screen by Frankenheimer and cinematographer James Wong Howe. This is one of those films that grabs you from the moment Saul Bass' title sequence comes on-screen and never lets up, spinning a tale of suburban malaise and middle-aged wish fulfillment gone horribly wrong at the same time it has the feel of a great Twilight Zone episode. The moral – about society's penchant to pursue "the dream" and material possessions at the cost of something emotionally, spiritually honest – is obvious, yet it's how the picture conveys its central theme that makes it so memorable. Howe's stark B&W cinematography, peculiar angles and editorial rhythms were fresh in 1966, and they continue to give the picture an unnerving, and constant, sense of dread, permeating even through its quieter moments (all of it underscored brilliantly by Jerry Goldsmith).
Hudson's performance is likewise outstanding. He enters the film as the "reborn" protagonist about 45 minutes in, and never for a second does the audience believe they're not watching the same old man from the film's beginning – the transition is physically striking, yet the mannerisms and personification of the character remain the same. It's a testament to Hudson's talents and Frankenheimer's direction that "Seconds" is seamless even when its star enters the picture – the movie has been so effectively set-up by this point that Hudson's integration into the film is something that serves the story, not derails it with the entrance of a "movie star."
Criterion's Blu-Ray of "Seconds" offers one of those gorgeous B&W HD transfers that puts most BD catalog transfers to shame. The B&W fine grain (1.66) is preserved in a spectacularly detailed image with deep blacks and perfect contrast. It's hauntingly beautiful. Extras include a thoughtful series of comments from admirer Alec Baldwin, who worked with Frankenheimer on his last project; new interviews with Frankenheimer's widow Evans and actress Salome Jens; a video retrospective piece; a 1971 interview with the director; a 1965 TV segment on the film's New York shoot; and Frankenheimer's commentary from the 1997 DVD.
"Seconds" serves up a horrifying morality play that's not always easy to watch but is impossible to forget. For devotees of Frankenheimer, Hudson, '60s sci-fi and vintage horror, Criterion's Blu-Ray delivers a spectacular release that's unquestionably recommended.
---
One of the great things about reviewing Blu-Rays and DVDs is coming across a film you have little familiarity with but instantly develop an affection for. Shout! Factory's upcoming Blu-Ray of the 1980 United Artists release THE IDOLMAKER (***½, 120 mins., PG) was one of those instances for me – a rich and highly entertaining tale of a struggling NYC songwriter (the charismatic Ray Sharkey) who fashions a pair of locals into teen heartthrobs in the early '60s.
Sharkey's Vincent Vaccari is a fast-talking talent who needs a commercial visage for his music, and encounters it twice: first in the form of a saxophonist (Paul Land) he packages into a popular Elvis-like crooner, then again in a young busboy (Peter Gallagher) who possesses less musical talent than Vinnie's first pop-idol undertaking, but has the looks to appeal to the hungry market of salivating teenage girls. Vinnie's uncompromising standards in looking out for his clients masks a genuine musical talent, yet he understands that it's all about the image, even after he begins to isolate everyone around him, including his clients, songwriting partner (Joe Pantoliano) and a magazine editor (Tovah Feldshuh) he eventually becomes romantically entwined with.
Edward DiLorenzo's script presses a lot of familiar buttons but between the terrific performances and Taylor Hackford's assured direction (his first feature), "The Idolmaker" hooks you in early and never lets go, creating the atmosphere of an early Scorsese film with a lot of heart. Jeff Barry's entirely original score feels more contemporary to 1980 than 1960, yet a couple of his fresh tracks are memorable, particularly Gallagher's big concert number and Sharky's poignant concluding song. Hackford, meanwhile, balances character development with keeping the story's momentum going, and ensures that the movie doesn't bite off more than it can chew – the movie's denouement is especially satisfying as it doesn't feel the need to cram too much into its final frames.
The biggest asset "The Idolmaker" has, though, is Ray Sharkey. The troubled actor who couldn't kick a drug habit and tragically died from AIDS at age 41 is magnetic as the likeable yet obsessed Vinnie – it's a performance that earned Sharkey numerous kudos and a Golden Globe for Best Actor (Musical/Comedy) at the time. Needless to say it's a shame the rest of his career (and life, for that matter) was such a mess, as "The Idolmaker" stands as a firm testament to his talent.
Brought to Blu-Ray this month from Shout!, "The Idolmaker" features a satisfying 1080p AVC encoded (1.85) transfer with DTS MA stereo audio. Taylor Hackford's commentary has been reprieved from an older laserdisc release, with the trailer and a photo gallery comprise the disc's other extras.
A film that hasn't always been easy to find at times, "The Idolmaker" is a genuine sleeper that movie buffs should be delighted is now available in high-definition.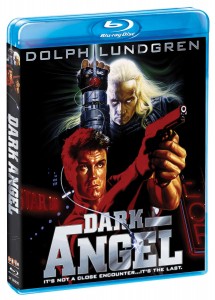 Also new from Shout! this month are a pair of sci-fi/horror Blu-Rays: Q: THE WINGED SERPENT (**½, 92 mins., 1982, R) is a Larry Cohen affair starring Michael Moriarty as a thief who finds the nest of a winged serpent in New York City's Chrysler Building. Fairly routine for Cohen – in fact, I remember being totally bored watching this film when I was younger because there wasn't enough monster action – "Q" is still watchable because of Moriarty's bonkers lead performance, as well as an attractive cult supporting cast (Richard Roundtree, David Carradine and Candy Clark among them). Shout's Blu features a commentary with Cohen recorded expressly for this release, the trailer, a 1080p AVC encoded transfer and DTS MA mono audio.
More entertaining is DARK ANGEL, which might be more familiar to American viewers as I COME IN PEACE (***, 91 mins., 1990, R). An agreeable B-movie from director Craig R. Baxley (see my review of "Action Jackson" below) , this frothy sci-fi thriller/cop buddy flick follows mismatched pair Dolph Lundgren (as "Detective Jack Caine"!) and Brian Benben (his buttoned-down FBI agent partner) as they track down an alien using humans as pawns in an intergalactic narcotics trade. Extremely entertaining, particularly considering its meager budget, "Dark Angel" boasts plenty of action, some amusing lines in a script reportedly rewritten by an uncredited David Koepp, and Lundgren's most satisfying leading role. It's a boisterous hoot that Shout! beams down to Blu-Ray later this month boasting interviews with Baxley, Lundgren and Benben, the original trailer, a 1080p (1.78) transfer and DTS MA stereo audio of the movie's original "Ultra Stereo" mix.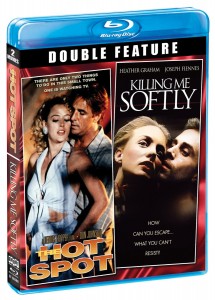 THE HOT SPOT (**, 130 mins., 1990, R)/KILLING ME SOFTLY (*½, 100 mins., 2001, Unrated): A couple of contemporary film noirs comprise this curious Blu-Ray double bill from Shout. "The Hot Spot" stars Don Johnson as a drifter who gets wrapped up with two women (Virginia Madsen and an especially sultry Jennifer Connelly) in a dusty Texas town in the '50s. Dennis Hopper directed this Orion Pictures production that received scant distribution for, regrettably, good reason: with a bloated two-hour plus running time and meandering direction from Hopper, "The Hot Spot" lamentably isn't a whole lot of fun. Its primary appeal to film buffs (or, at least, some of us high schoolers back in the day) was seeing the nubile Connelly and Madsen together in a topless shot – beyond that, it's a grimy, depressing picture without much appeal. 2001's "Killing Me Softly" isn't much better – a convoluted thriller from director Chen Kaige with Heather Graham falling for stranger Joseph Fiennes in a laughable adaptation of Nicci French's novel, scripted by Kara Lindstrom and produced by Ivan Reitman. Both pictures offer reasonably good 1080p transfers from the MGM vaults along with stereo audio, but you'd have to be a die-hard fan of either picture to invest in this release.
SAPPHIRE AND STEEL: Complete Series DVD (1979-1982, 14 hours; Shout! Factory): David McCallum and Joanna Lumley play two "inter-dimensional agents" investigating various cases in this pre-"X-Files" British series that has more than a taste of "Doctor Who" going for it. Not a series I was familiar with previously, "Sapphire and Steel" is most definitely a product of its era, and ought to most specifically appeal to British sci-fi enthusiasts who will best appreciate its primitive special effects and leisurely paced stories. Shout!'s DVD compiles the complete series (all 34 episodes) here in full-screen transfers and mono soundtracks. Also available shortly from Shout! Is MONSUNO: COMBAT CHAOS (110 mins., 2013), another compilation from the popular TV animated series. Shout's DVD includes the episodes "Flash," "Bang," "Mysterious," "Antithesis" and "Kidnapped" along with character bios and stereo soundtracks.
---
New From Twilight Time
Walter Hill's contemporary film noir THE DRIVER (***, 89 mins., 1978, R) ranks as one of the director's finest outings: an economically told tale of a brooding getaway driver (Ryan O'Neal) who plays by his own code of conduct and a renegade cop (Bruce Dern) who'll do anything to take him down.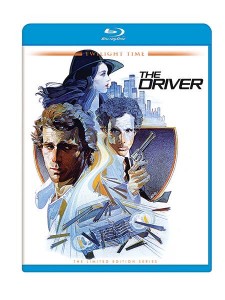 It's a simple narrative spun by Hill in his original script, with most of the film's appeal coming from its smoky cinematography by Philip Lathrop and a potent mix of high-octane chase sequences and – as Julie Kirgo points out in her liner notes – quieter, introspective moments involving O'Neal (who finds the perfect vehicle for his placid exterior here), Dern and Isabelle Adjani and Ronee Blakely as the two women involved in their cat-and-mouse game. Eventually, double crosses come into play in a tense, and gripping, conclusion, but even before that, "The Driver" wins you over with its moody atmosphere and lean script (the characters don't even have names!) that's thoroughly engaging.
Twilight Time's Blu-Ray edition of "The Driver" includes a wonderfully detailed 1080p transfer that easily ranks among the best of their Fox releases. The 1.0 DTS MA mono sound is limited by the fidelity of its source, but it's passable, and Michael Small's low-key score is also isolated in a separate audio track. The trailer and a three-minute alternate opening, reportedly seen in TV prints and shot at the studio's insistence to help flesh out the story, makes its debut on the supplemental side.
---
Also New on Blu-Ray
THE MUPPET MOVIE Blu-Ray/DVD (***, 95 mins., 1979, G; Disney): Like a lot of folks nearing 40, I grew up on the Muppets via Sesame Street, their own syndicated show, and, of course, the big-screen Muppet movies. For a long time, though, I never could get into the theatrical films -- somehow seeing Kermit, Fozzie, Miss Piggy, and Gonzo outside in the real world, away from their own confines, was something that I simply didn't buy at first glance.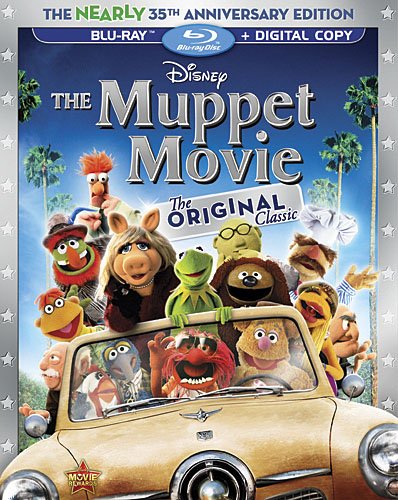 Jim Henson's first three theatrical films starring his creations -- 1979's box-office smash "The Muppet Movie," 1981's commercial disappointment "The Great Muppet Caper," and 1984's so-so "Muppets Take Manhattan" -- are a mix of standard cinematic plots punched up with satirical Muppet humor, along with song soundtracks that yielded a few hits in the process. The second Muppets film, "The Great Muppet Caper," is the best of the three (I prefer it for its enjoyable heist plot and Joe Raposo's terrific songs), but Disney is likely holding off on releasing it on Blu-Ray until the next Muppet film lands in theaters next spring.
In the meantime, the studio has issued a very crisp, good looking Blu-Ray of the original "Muppet Movie," a film that – while certainly entertaining and ideal fare for kids – illustrates the kinds of problems that Henson, Frank Oz, and company had when trying to adapt the Muppets to the silver screen.
One of those problems is the use of guest star cameos, which slows down this routinely assembled plot of Kermit and friends heading to Hollywood while avoiding fast food (frog legs!) entrepreneur Charles Durning. After all, did kids really care about seeing Elliott Gould, James Coburn, and Telly Savalas popping up as extras? "The Muppet Movie" was the most prone of all the original Muppet movies to this predicament, with Jerry Juhl and Jack Burns' script interrupted with gag appearances by the likes of Dom DeLuise, Mel Brooks, and Bob Hope. Adults will enjoy some of the interaction between the stars and the Muppets, but it's clear that a little of the in-joking goes a long way – something that Henson and Oz undoubtedly realized as they pared down the cameos subsequent features.
According to co-star Austin Pendleton, the shooting environment on "The Muppet Movie" also wasn't very hospitable, something that was likely a combination of both Henson and crew working outside a studio really for the first time, as well as collaborating with an "outsider" in director James Frawley. Nevertheless, Frawley does manage to nail the movie's memorable opening, wherein Kermit croons Paul Williams and Kenny Ascher's classic song "The Rainbow Connection" at home in the swamp – it's such a beautiful, bittersweet tune, and Frawley's camera work and cinematography nails it.
It's so good, in fact, that movie really has nowhere to go but downhill after that, even if the Jerry Juhl-Jack Burns script has a healthy quotient of laughs, and Williams & Ascher's score boasts a number of bouncy tunes that bring the film to life (I still have a hard time understanding how "The Rainbow Connection" lost Best Original Song to a wobbly Jennifer Warnes ballad from "Norma Rae"). For a first time outing, "The Muppet Movie" was an unqualified commercial smash, paving the way for a follow-up – the Henson-directed "Great Muppet Caper" – that would prove to be an improvement in both story and visuals.
Making its Blu-Ray debut from Disney, "The Muppet Movie" has never, ever looked this good on home video. No attempt was made to dose DNR all over the image, so grain and HD detail are prevalent throughout, while colors are warm and stable. Disney's recent animated catalog releases have left much to be desired, but "The Muppet Movie" appears to have been minted from a new master, and the image is terrific. Little attempt has also been made at overhauling the movie's rather primitive early Dolby Stereo mix, as the 5.1 DTS MA track is basically mono outside of the songs.
One note about the running time: "The Muppet Movie" was originally released at 97 minutes, and then trimmed to 94 minutes. Some of the footage from the longer version has popped up on Youtube thanks to a UK video release, but none of it is included here (nor has it on any domestic U.S. release I'm aware of).
For supplements, Muppet fans will want to check out a truly fascinating "camera test" produced by director Frawley. Thinking that this would be a brief series of shots with Kermit driving in a car, I was surprised to find a 17-minute assortment of improvised scenes with the Muppets driving, talking, and walking about in the English countryside. This is a truly priceless extra for fans, having previously been released only on Sony's OOP DVD. Other extras include a couple of original trailers, an interactive sing-along and "Intermission" mode, Doc Hopper's commercial, the Pepe Profiles "Kermit: A Frog's Life," plus a DVD and digital copy.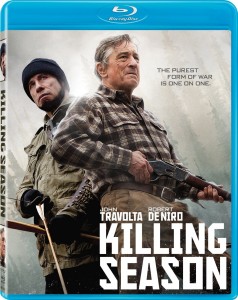 KILLING SEASON Blu-Ray (*½, 90 mins., 2013, R; Millennium): A former Serbian military officer (John Travolta) goes hunting for the American soldier (Robert DeNiro) who left him for dead in Mark Steven Johnson's dismal thriller, which plays in part like a geriatric "Rambo" with definite shades of William Friedkin's far superior "The Hunted" worked in for good measure. Barely 80 minutes in length and stretched out with 10 minutes of end credits, "Killing Season" is pretty terrible right from the moment Travolta appears with his heavy accent, and scarcely improves one he and DeNiro try to one-up one another's respective methods of torture. If it weren't for a fine Christopher Young score, this would have almost nothing to recommend it. Millennium's Blu-Ray includes a 1080p transfer and DTS MA 5.1 soundtrack plus one Making Of featurette.
WHAT MAISIE KNEW Blu-Ray/DVD (***, 98 mins., 2013, R; Millennium): Surprising, well-acted modern adaptation of Henry James' novel from directors Scott McGhee and David Siegel stars the remarkable Onata Aprile as Maisie – a six-year-old who becomes the pawn in a bitter custody battle between singer mom Julianne Moore and forever-distracted art dealer father Alexander Skarsgard. The horrible treatment she receives from both parental units and attempts to graft onto other adults makes for an absorbing, emotional drama well crafted by writers Nancy Doyne and Carroll Cartwright. Millennium's Blu-Ray includes deleted scenes, a commentary from the directors, a 1080p transfer and 5.1 Dolby TrueHD soundtrack.
SCARY MOVIE V Blu-Ray/DVD/Ultraviolet (*½, 88 mins., 2013, Unrated; TWC/Anchor Bay): Praise be the movie gods – time has finally run out on the "Scary Movie" franchise! After somehow generating sufficient box-office returns to keep this limp movie parody series going for years, "Scary Movie V" – another collection of mostly unfunny gags spoofing "Paranormal Activity" and dozens of other recent genre films with a B-list cast (Ashley Tisdale, Heather Locklear, Molly Shannon, Snoop Dogg and cameos from Charlie Sheen and Lindsay Lohan) – finally fizzled with viewers, thanks to a low quotient of laughs in the script by vets David Zucker and Pat Proft, who generated far more guffaws in "Police Squad!" Anchor Bay's unrated Blu-Ray offers an Unrated version of the film plus additional deleted/extended scenes, a DVD, Ultraviolet copy, a 1080p transfer and 5.1 DTS MA soundtrack.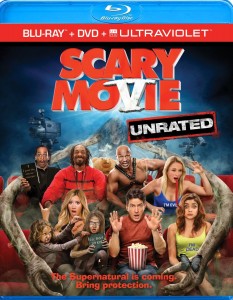 E One New Releases: THE CAPTAINS CLOSE UP (150 mins., 2013) from star/host/writer/director William Shatner finds the original Captain Kirk spending a half-hour with Patrick Stewart, Avery Brooks, Kate Mulgrew, Scott Bakula...and himself...discussing each actor's place in the Star Trek universe and their approach to their respective characters. Additional never-before-seen interview footage is included in this 150-minute E One DVD, presented in 16:9 widescreen with 5.1 Dolby Digital audio.
CAT.8 Blu-Ray (175 mins., 2013; Gaiam Vivendi): Maxim Roy stars as a scientist whose global defense system unknowingly ignites a "solar storm" that threatens the entire world in this Canadian-lensed sci-fi TV mini-series. Matthew Modine nabs top billing as the scientist who comes to her aid in a decent disaster affair thankfully as interested in character development and suspense as it is with meager special effects (still not bad for this kind of thing). Gaiam's Blu-Ray includes a handful of cast interviews, 1080p transfer and 5.1 DTS MA audio.
HATCHET III Blu-Ray (81 mins., 2013, Unrated; Dark Sky/MPI): Writer Adam Green and director BJ McDonnell try to wrap up their minor cult series with genre faves Danielle Harris, Zach Galligan and Caroline Williams out to stop maniac killer Victor Crowley (former Jason, Kane Hodder) for the final time. McDonnell packs enough blood 'n guts in the tidy 80 minute running time to please any gorehound – with probably one of the highest body counts per-minute imaginable – but there's not a lot here for anyone other than die-hard buffs who enjoyed the prior entries. Dark Sky's Blu-Ray includes crew commentary with Green, McDonnell and other members of the filmmaking team; a cast commentary with Green, McDonnell and Hodder; three featurettes; the trailer; teaser; a 1080p transfer and 5.1 DTS MA sound.
---
New Warner Releases
A mix of '80s action flicks make their debut on Blu-Ray along with a classic western fans have been eagerly anticipating in high-def.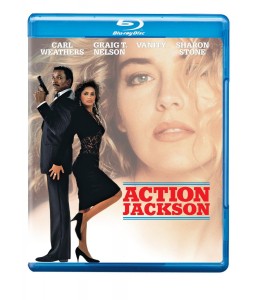 ACTION JACKSON (**, 96 mins., 1988, R) was Carl Weathers' attempt at launching his big-screen action career. Coming off a co-starring role in 1987's Schwarzenegger smash "Predator," "Action Jackson" found Weathers working again with co-producer Joel Silver, this time as a demoted Detroit cop investigating an auto tycoon (Craig T. Nelson) who's knocking off any opposition on his rise to the top – and that includes wife Sharon Stone. In fact, "Action" is framed for her murder, and works with Nelson's soul singer mistress (Vanity) to clear his name and expose the truth.
"Action Jackson" has a cool cast – Robert Davi and "Back to the Future"'s Thomas F. Wilson co-star – but it's decidedly something of a minor, forgettable action vehicle. A few action scenes liven up the slack pace set by B-movie auteur Craig R. Baxley (see my review of his superior "Dark Angel" above), but too much of the film is set in drab, claustrophobic confines. The enthusiastic Weathers is certainly game, at least, and Robert Reneau's script has several amusing lines, making it a decent view for '80s action fans, though it's unlikely to generate repeat viewings.
Warner's Blu-Ray (1.85 AVC encode) marks the first widescreen presentation of the Lorimar-released "Action Jackson" on home video. It looks to be something of an older HD master with odd fleshtones (Stone's make-up is either downright hideous in one sequence where she and Weathers have a drink or something is seriously amiss with the transfer) that aren't done any favors by Matthew F. Leonetti's dank lighting. The DTS MA 2.0 stereo sound punctuates the material with one of those tracks where the dialogue is mixed too low in relation to the sound effects and score, which mostly sounds like it was written by Michael Kamen "with" Herbie Hancock and not, as the credits list, the other way around.
Wesley Snipes, by comparison, launched his genre career with the starring role in 1992's PASSENGER 57 (**½, 84 mins., R), a slight effort from director Kevin Hooks that pits Snipes' private security op against a terrorist (Bruce Payne) who takes over a plane headed to Los Angeles. Payne is terrific and Snipes gets to utter one of his signature lines ("always bet on black!") here but "Passenger 57" provides only low-octane thrills, with Hooks barely sustaining the script by David Loughery ("Dreamscape," "Star Trek V") and Dan Gordon out to 80 minutes. Warner's Blu-Ray sports a stylish 1080p (2.40) transfer and 5.1 DTS MA soundtrack, plus the trailer.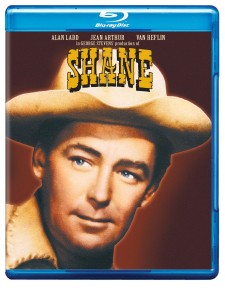 George Stevens' classic western SHANE (****, 118 mins., 1952) at last receives the high-definition treatment this month from Warner. Stevens' adaptation of Jack Schaefer's novel, scripted by A.B. Guthrie, Jr. with "additional dialogue" by Jack Sher, is a gorgeous and emotional tale of a grizzled, veteran gunslinger (Alan Ladd) who comes to the aid of a homesteading couple (Van Heflin, Jean Arthur) living in Wyoming with their young son (Brandon DeWilde) – all of them antagonized by a cattle baron and his goon (Jack Palance). The shots of Jackson Hole and the Grand Teton Mountains are just part of the beauty of "Shane," which has a memorable story and indelible performances to match. One of Stevens' crowning achievements, "Shane" isn't just one of the great westerns but one of the finest films of the '50s altogether.
Warner's Blu-Ray, offering a fresh 1080p (1.37) AVC encoded transfer from the Paramount vaults, does not disappoint: Loyal Griggs' photography is enhanced by the vivid, crisp detail present in this HD presentation, with strong colors and contrasts. Extras include the trailer and a previously-released commentary with George Stevens Jr. and associate producer Ivan Moffat. An unquestioned classic absolutely worth a purchase on Blu-Ray!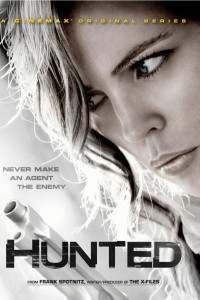 Also new this August, and making a welcome appearance on DVD, is Warner's new, four-disc CHARLIE CHAN COLLECTION, which presents four of the later Chan mysteries produced by Monogram Pictures prior to the series' conclusion. Included are the new-to-DVD "Shadows Over Chinatown" (1946) with Sidney Toler, as well as three Roland Winters features: "Docks of New Orleans," "Shanghai Chest" and "The Golden Eye," which were all released in 1948. The B&W transfers are reasonably good and fans should be happy with this first Chan release since 2010's TCM four-feature DVD release. Thanks to this package, only a couple of Monogram films are left in the vaults for a future DVD release, unless someone comes across the legendary "lost" early Chan films produced at Fox. Definitely recommended for Chan fans!
Available exclusively from Warner's WBShop.com (also available at Amazon and other online outlets) is Season 1 of HUNTED (470 mins., 2013), a Cinemax series created and produced by former "X-Files" vet Frank Spotnitz. The lovely Melissa George stars a kick-ass operative for a private security firm who believes she's been betrayed by her team – after a year away, she returns trying to figure out what happened while infiltrating a high-profile family as part of a new assignment. The 16:9 DVD transfers and 5.1 soundtracks are all excellent.
Finally, two more Warner Archives titles will be of prime interest for vintage buffs: all 13 episodes of CHEYENNE's Sixth Season (650 mins.) have found their way to DVD courtesy of the Archive. This four-disc set includes appearances from James Coburn, Lee Van Cleef, Ellen Burstyn and James Hong among others, along with crisp B&W transfers and mono soundtracks. Finally, Marion Davies and Bing Crosby mix things up in the 1933 MGM musical GOING HOLLYWOOD (78 mins.), a genuine Golden oldie from director Raoul Walsh, presented in a B&W 4:3 transfer as satisfying as the source material allows.
---
DOCTOR WHO: SPEARHEAD FROM SPACE Blu-Ray (96 mins., 1970; BBC): From the Jon Pertwee era, Robert Holmes' "Spearhead From Space" (which originally aired January, 1970) finds the good doctor banished to Earth, along with a bizarre "plastic" race named the Nestene. The first Doctor Who program to be presented in color and entirely shot on film due to a strike at the BBC, "Spearhead From Space" is also the first archival "Who" program to be released in high-def on Blu-Ray. The 4:3 image is surprisingly clear, while 2.0 DTS MA audio faithfully reproduces the original mono sound. Extras are different than the 2012 DVD, and include a 20-minute profile of Jon Petwee; a half-hour tribute to Caroline John; a 20-minute Title Sequence featurette; and a brief restoration comparison.
Speaking of Doctor Who, the new Doctor – Peter Capaldi – stars in THE THICK OF IT (734 mins.), a British comedy about the fictional Department of Social Affairs and Citizenship, with Capaldi nabbing top billing as the department's liaison with the PM's office. All four seasons of the acclaimed series – which inspired both the film "In the Loop" as well as HBO's Julia Louis-Dreyfus series "Veep" – are collected in this seven disc set from BBC, including 16:9 transfers, 2.0 stereo soundtracks, commentaries, deleted scenes, outtakes and behind the scenes featurettes.
SOUTHLAND: Season 5 [Fifth and Final Season] DVD (428 mins., 2013; Warner): The final 10 episodes of the critically acclaimed, perpetually ratings-challenged crime drama about life on the streets of Los Angeles for a series of tough beat cops arrives on DVD this week from Warner. Balancing hard-edged story lines with compelling character drama, the series – which once began life as a low-rated NBC network show – bids adieu to its fine cast with an uncompromising finale that puts a cap on five strong seasons. Warner's DVD includes a "Shooting in Progress" featurette, unaired scenes, 16:9 transfers and 5.1 soundtracks, which are uncensored compared to their broadcast versions.
THE MINDY PROJECT: Season 1 DVD (aprx. 9 hours; Universal): Mindy Kaling from "The Office" strikes out on her own, and into this somewhat uneven but ultimately likeable – and very funny – Fox comedy. Kaling's OB/GYN Mindy Lahiri, much like her "Office" counterpart, wants her love life to flow in the form of a big Hollywood movie, which of course leads to great frustration and the occasionally amusing bad dates. Her relationships in and out of the workplace are given equal thrift in "The Mindy Project," which started off a bit on the rocky side but becomes much more entertaining once it hits its stride (or at least comes closer to it) midway through the year. Universal's DVD doesn't offer much in the way of extras (just some deleted scenes), but the 16:9 transfers and 5.1 soundtracks are all nice, and the solid ensemble cast and occasional guest star (including Seth Rogen and Kaling's "Office" counterpart Ed Helms) lend additional appeal to a series that should find even firmer footing when it returns for Season 2 this September.
NEXT TIME: More of the latest releases! Until then, don't forget to drop in on the official Aisle Seat Message Boards and direct any emails to our email address. Cheers everyone!